Carrie Prejean, Miss California, is caught up in a controversy because of a question she answered during the 2009 Miss USA Pageant.  Perez Hilton, who for some reason was a judge based on his lovely drawings on his site,  asked the following questions:
Vermont recently became the 4th state to legalize same-sex marriage. Do you think every state should follow suit. Why or why not?
Carrie responded with the:
Well I think its great that Americans are able to choose one or the other. We live in a land where you can choose same-sex marriage or opposite marriage. And you know what, in my country, in my family, I think that I believe that a marriage should be between a man and a woman. No offense to anybody out there, but that's how I was raised and that's how I think it should be between a man and a woman. Thank you very much.
Because of that answer she is being ripped apart online.  Perez issued a video response where he shows no class whatsoever towards the opinion expressed by Prejean.  Was her answer politically correct or pageant worthy – probably not, but was it a valid answer where she expressed her own opion and belief – yes.  Perez believes she should have conformed to a canned response to make everyone happy.  I feel that a person having an opinion and their own thoughts is what makes this a great country.  I say leave the woman alone for being honest.
Videos on the flip..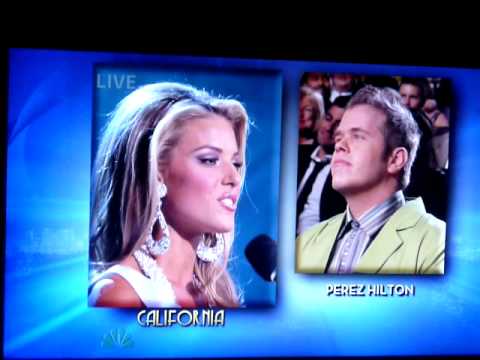 <